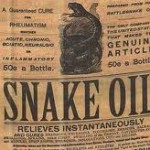 How exactly did the process of gathering news get to this point? 
We have allowed news readers to go on-the-air and vomit ambiguous language that holds no one accountable.
This is not the first time we have witnessed the media—with its authoritative voice and sheer power—destroy its own credibility.
The reporting of terrorism this week at the Boston Marathon, and the subsequent manhunt for the two suspects, left many ordinary people miffed about how news is gathered and shared. 
These past few years, I have watched breaking news stories and 24-hour channels that have repeatedly made sloppy assumptions that mainstream media should never have allowed. 
But it's gotten so bad this week that people with no behind-the-scenes knowledge of how news decisions are made, have been mortified. I've worked as a news director and news reporter. I am beyond mortified.  
These five phrases have contributed to our damaged news coverage: 
1. "We believe that it's likely…" My take: Accuracy trumps vague.  
2. "We are trying to follow-up on unconfirmed reports…" My take: Action trumps words. 
3. "There's speculation from a variety of unnamed sources…" My take: Fact trumps speculation.
4. "We are just as confused as you are as we try to put the pieces together…" My take: Clarity trumps confusion.
5. "We have no new information." My take: New information trumps empty words.
Veteran network newsman and strategist David Henderson writes:  
"The media–especially cable TV–is like a drunk on a binge, and cannot control their near-insane rush for dramatic announcements, replete with bold red warnings of apocalyptic disaster on the screen. Everything is an 'Alert' or 'Breaking News.' Yet, it seldom is. Wolf Blitzer saying over and over that John King has 'exclusive information' is not news. It's promotion, publicity, boasting. As it turned in the Boston terror story, King's 'exclusive' information was wrong. King was a font of misinformation … gossip."
People around the world have been offering prayers for the victims and people of Boston.
Let us also extend a prayer for the pained news media. 
(Image via)