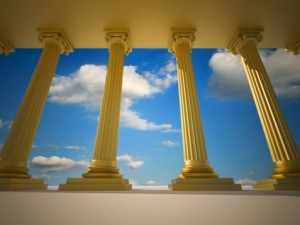 Whether you're a digital native or a digital immigrant, business communicators must have a rock-solid foundation to succeed in our technology-centric world.
The future of our organizations —and careers — rest on these four pillars: 
1. Accessibility: Our point-of-entry to decision-makers is social media. Social channels have opened doors to the media, business leaders, decision-makers, thought leaders, and prospects that we could never have dreamed of. Are you using this new-found accessibility in an effective way? For example, on #Follow Friday (Twitter), it is nice to mention people in your circles, but be sure to include those whose attention you are trying to capture. You can also retweet them. On LinkedIn, join groups where your ideal clients hang around. Your goal: Slowly build rapport and bring the conversation offline.
2. Curation: Filtering relevant information to power your internal and external communications play a pivotal role in business. You may not be tickled with the thought of being a publisher, but sorting through news stories and posts that impact your niche, clients, and employees, has many benefits in our attention-starved world. Andrew Birmingham writes on CIOAustralia.com: "Companies are increasingly exploiting corporate social networks with the ultimate payoff being increased sales from the provision of faster and better information for customers." Your goal: Become a trusted and valued resource.
3. Education: Intellectual capital — the content between your ears — has never been as important as it is today. You may not always admit it, but you have vast knowledge and experience that others need. Learn something new every day so you can educate others. Your goal: Sell your knowledge. 
4. Scalability: How will you manage future growth? With mobile, e-commerce, online media monitoring, brand marketing, and the Enterprise, new business models are evolving. Are you equipped to build on what you already have without business disruptions and technology disasters? Your goal: Be sure your house of cards doesn't collapse.
Warren Buffett said: "Someone's sitting in the shade today because someone planted a tree a long time ago."
A final thought: Check out my 21-day, free video series, Speaking of Communication. It's packed with tips, tricks, and techniques for blogging, social media, publicity, and business communication. The box is on the top right.