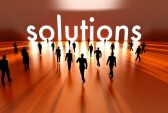 Today's business professionals must have skills and talents that previous generations didn't even consider. Each of the items below is not exclusive to people working in marketing, sales, PR or HR. For example, not long ago, storytelling was integral to PR and news stories but not to HR. Now, savvy human resource professionals share employee stories about their corporate culture that is essential in recruiting and retention.
The following elements of communication are for all of us. You can run, but you can't hide.
Storytelling
Marketers must not only grab people's attention; they must also be able to hold people's attention.  (Seinfeld fans will remember when Jerry chastised a rental car agent at an airport for "making the reservation but not holding the reservation.")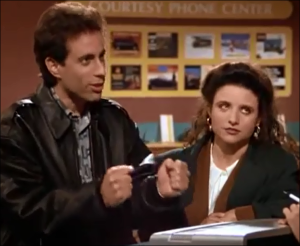 Today, taglines won't work; storytelling helps consumers take notice of a brand. Greg Satell, a digital strategist, writes, "We need to shift from crafting messages to creating experiences." Satell says to construct a compelling story that resonates with human emotions, says sales and marketing pros mustn't get caught up with content. Instead, learn the elements needed for a phenomenal story.
Live Video
By 2019, some 90 percent of web traffic will include video content. Research from Cisco reminds us that consumers enjoy recording spur-of-the-moment snippets. Author Bryan Kramer, a social media marketing pro, says:  "[Video] disrupts traditional forms of pre-planned content that get pushed towards an audience; live-video opens up a conversation and invites consumers to the party." Think brand ambassadors and fun.
Kramer also addresses the value of B2C engagement:
Live-video invites a two-way exchange between your brand and consumers. Your audience can help you to shape your content, essentially urging a crowd-sourced approach. It's an adaptive way to market and means that you can change the direction of your video content in response to live interaction with your audience. If something isn't working, you can bet that your audience will let you know about it.
The spontaneity of your content creation and the rapid-fire response of your audience can help you show off your brand and let people know that you're not faceless corporate drones. Brands can relax.
Metrics and Business Outcomes
Content marketers shouldn't be intimidated by statistics and numbers. After all, stakeholders expect leaders to connect metrics with business outcomes. Can you formulate a hypothesis about content performance and compile a report with supporting data and next steps? I'm impressed with Barry Feldman's infographic that offers 26 ways to use Google Analytics and measure content marketing efforts. There are tips on dashboards, queries, BOT filtering, mobile, KPIs and more.
Customer Service  
A marketing professional in the environmental engineering industry once told me she "doesn't have anything to do with sales." Really?! Likewise, if you think your expertise doesn't involve customer service (brand ambassadors), think again.
Consider this example from event planners who manage large business conferences. Do they understand their responsibilities go beyond a comfortable ballroom and goodies at a networking reception? Kelli White, an event manager, wrote a post that included a few customer service debacles. She reminded readers that reputation management and communication on social media during programs are essential to branding and sales. For example, one conference's transportation glitches sent attendees right to social media to complain. White says many organizers mistakenly create social media channels without a realistic plan to manage and respond to comments and criticism.
One way for emerging leaders and those new to the workforce to learn organizational cross-functionality may lie in rotational programs. That's when employees work in at least three different departments at the same company for a designated period. "They provide the opportunity to try on many hats to see which fits best. For example, a participant may spend a year in accounting, a year in finance and a year in marketing," writes blogger Kaytie Zimmerman on Forbes.com. Rotational programs often help companies improve opportunities for millennials, who crave learning and professional development.
In the end, effective leaders understand the overlap that we need to compete in business today.