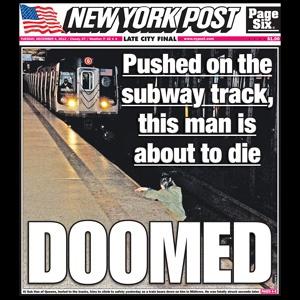 "I didn't read the paper today, but I saw the Post."
That's been a long-running joke in New York and New Jersey about the quality of The New York Post. I've been reading the paper since the early 1970s, before it tanked.
Call it crap, fodder, entertainment, a joke. But people still buy the rag sheet and it gets published every day.   
Another Day at Work
So what's an editor to do when a freelance photographer comes back to the newsroom after snapping a picture of a man who was pushed onto subway tracks by a stranger? As the victim tries frantically to climb off the tracks, the train is barreling towards him.
Click. Click. Click. 
The photographer, R. Umar Abbasi, has to decide in a split second: Try and help this desperate human being or do my job. 
His choice made the front page of the paper on December 4th. (Photo via). And the decisions of both Abbasi and his editor have been blasted by many.  
Front Page News
How could another human being watch this horrific chain of events unfold and not try and help?
The man on the tracks who was killed, 58-year-old Ki-Suck Han, was someone's father, husband, and co-worker.
Was his life worth something more than a cover story? Who are we to judge? 
Opinions from trained photojournalists, editors, and media consultants have been mixed. 
Verena Dobnik, a reporter for the Associated Press writes:   
"The moral issue among professional photojournalists in such situations is 'to document or to assist,' said Kenny Irby, an expert in  the  ethics of visual journalism at the Poynter Institute, a Florida-based nonprofit journalism school.
He said that's the choice professional photographers often face in the seconds before a fatality."
 Dobnik's story continues:
"Another professional reluctant to reach conclusions was veteran photographer John Long of the National Press Photographers Association, where he is chairman of the ethics committee.
"I cannot judge the man," he said. "I don't know how far away he was; I don't know if he could've done anything."
However, both Long and Irby said that as a photographer, 'you are morally obliged to help' — if possible, rather than take a picture."
The People's Court
Social media has been buzzing with comments and opinions from the public.
On Facebook, Scott Freeman of Newtown, PA, posted:  "I hope the editor of the NY Post burns in hell. Publishing a front page picture of a man left to die to sell papers is classless, cruel, and inhumane. What happened to humanity?"
For the record, there's been no comment from the editors at the Post. 
Did the rag sheet go too far this time?  
(From my personal archives)