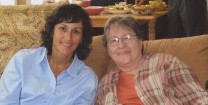 Today's my "big birthday." 5-0.
I won't reflect on "Where did the time go?" 
I won't say 50 is the new 30. Gravity tells me otherwise.
I will say that this past week I have become remarkably indifferent about this birthday.
I was going to write a post such as, "50 things PR has taught me." Or, "50 snappy lessons from a 50-year-old." Blah, blah, blah.
Instead, let's go back 25 years. It's 1987. On my 25th birthday, I sat in the den in the house I grew up in and talked with my mom. 
When she expressed shock that I was 25 (and she wasn't), I responded that I hadn't accomplished much in 25 years. But of course, a mother's wisdom emerged with this gem: 
"You've been in school for most of your 25 years. It's the next 25 years that will be more telling. G-dwilling, we should revisit this conversation when you're 50. Then if you say that you haven't done much, that's a different story."  
Good point.
Today, I'm blessed that my parents are still with me and have seen my accomplishments these past 25 years. Naturally, they have been there for the rough patches, too. Which leads me to being grateful for my own two children, my husband, Andrew, my sisters, brother-in-law and their families. Throw in a big extended family, too. 
As a 50-year-old, I will share this with you: 
I checked the mirror this morning to make certain I didn't wake up with a moustache. Mood swings: Stay tuned. 
I have stopped short of cutting my hair like Jamie Lee Curtis. 
I still get a peculiar look on my face when I look in the garage at my 2012 Hyundai Elantra. It's a far cry from my first car, a 1981 Chevy Camaro. 
It's been a hell of a run these past 25 years.
Big plans for me? Not so much. I won't be spending time trying to figure out what the next two decades may bring.  
Instead, I'll be busy taking a few deep breaths and enjoying the blessings of the moment.
Every day should be celebrated like this. It's all I've got.