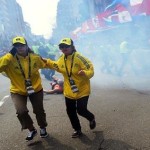 Moments after the two initial explosions that rocked the finish line at Monday's Boston Marathon, social media, bloggers, and traditional reporters took to various networks to 'cover' the unfolding story. Another opportunity for citizen journalists.  
I have watched the live coverage, video clips, tweets, and news broadcasts and have been struck by the following:  
Cheers to the people who immediately cancelled their automated tweets and postings.
Cheers to the 'real' PR pros that didn't bother to call newsrooms, send releases, or pitch stories that have no obvious connection to the marathon. 
Cheers to people on Twitter who quoted their source or offered a link to a new development. Information without a source flies in the face of journalism. Well, it used to be that way. 
Cheers to people on the scene who used disclaimers when posting graphic visuals.
Cheers to the reporters who were running in the marathon for jumping into "media mode" amidst the chaos and fright.
Jeers to the chat organizers who plan to "carry on" as usual tonight.
Jeers to people posting non-related motivational quotes on Twitter. Really? 
Jeers to those playing up the Sandy Hook victims angle. Yes, there were relatives near the finish line and yes, the victims were remembered at the start of the marathon, but these folks have had enough. Leave them alone. 
Jeers to the reporters who complained on line that their assignments were changed at the last minute and they had to travel to Boston. 
Jeers to people tweeting about the Jodi Arias trial.  
Anything you would like to add?
Prayers and blessings to everyone affected by these senseless acts.
(Image via)