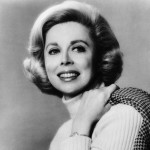 She has been dubbed "the mother of media psychology."   
Dr. Joyce Brothers, a licensed psychologist who passed away on Monday, has been described by CNN as having "a reassuring and calming demeanor" that boosted her self-titled local talk show to syndication in the 1960s.
Dr. Brothers' affable personality and willingness to talk about taboo subjects such as marriage, relationships, and families made her a household name for decades. Remember, this was a time when married couples on TV were sleeping in separate beds. The word 'pregnant' wasn't uttered on television, either. 
According to NBC News, "Her television show would soon make her a pop culture fixture. She made nearly 100 appearances on Johnny Carson's The Tonight Show. Her frequent public appearances propelled her to become one of the most admired women in America, appearing on Gallup's list of most admired American women."
Here are five insights on communication and media from Dr. Joyce Brothers:
"There is such a thing as bad publicity."
"Listening, not imitation, may be the sincerest form of flattery."
"If Shakespeare had to go on an author tour to promote Romeo and Juliet, he never would have written Macbeth."
"Anger repressed can poison a relationship as surely as the cruelest words."
"I invented media psychology. I was the first. The founding mother." (1989)
Years ago, not everyone jumped on the media psychologist bandwagon.
"Dispensing advice on public airwaves didn't please all of her colleagues," reports CNN. "Some members of the American Psychological Association asked early in her media career that her membership be revoked because they didn't think dispensing advice outside a one-on-one setting was appropriate." However, the APA's website says that media psychology became part of the organization's structure in 1986.
Admittedly, I'm a bit troubled thinking that this wonderful talent paved the way for today's sensationalist personalities like Dr. Phil and Dr. Drew Pinsky. 
But as we recall Dr. Brothers' intelligence and accomplishments, we also note that she was fun. In the 1950s, Dr. Brothers was a TV game show contestant, winning more than $134,000 in prize money.  She made several cameo appearances in movies, including a parody in The Naked Gun. On the small screen, she was featured on Happy Days, The Simpsons, and Entourage.
Rest in peace, Dr. Joyce Brothers. You were a gifted media pioneer with talents that stretched across print, radio, television, and movies.
(Image via)