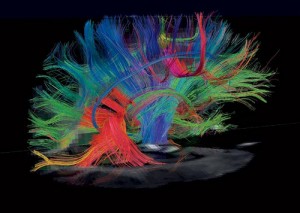 "Nametag Scott" (a.k.a. Scott Ginsburg) is not only an interesting guy to speak with; he's an innovative businessman who has the courage to allow his creative and entrepreneurial instincts to thrive.
If you're not familiar with him, Scott's been wearing a nametag since he was in college, some 10 years ago. He says he walked out of a campus event, left his nametag on his shirt and people were suddenly quite friendly. They told him he was "approachable." And with that, Scott built an enterprise. He's written 12 books, and is a professional speaker, consultant, and award-winning blogger. He also created NametagTV.com.
I recently interviewed Scott for my "Winning Ways" series on successful leaders. I'm happy to share his insights on creativity and the myth of writer's block.  Here's Part 1 of our conversation:
The Endless Reservoir
"Writers block doesn't exist. It's a lie. There's no such thing as writer's block because writing is an extension of thinking, so you don't have writer's block you have thinker's  block. If you want to become a better writer, you need to become a better thinker. People ask me all the time how I come up with so many ideas and so much content. They complain they can't find anything to write about.  Are you kidding me?! Do you live on this planet?! It's easy to get ideas. Creativity is nothing but active listening. That's it. ….every morning I don't decide what I'm going to write.  I just listen for what wants to be written.  That's the challenge for anyone in any form of art.  Just listen to what wants to be written. It's everywhere; pay attention. There's an endless reservoir of stuff to write about. No, I've never had writer's block and I never will. It's not because I'm an amazing writer.  I make observations, I listen, I write everything down. I'll always have a full reservoir."
Not Everyone's a Writer
"People have this misconception that writing is with your hand. Not at all. Remember that writing is an extension of  thinking. You can talk on a video camera and then  have it transcribed. Here's another idea for non-writers. You can find someone who is great on riffing with you who has a somewhat comparable brain style. Sit down with them, turn on the Flipcam, give them a list of questions to ask you, and have them provoke you.  That's because you always say better stuff when you're just chatting. Then have it transcribed. There are so many different ways of getting your thoughts on paper. It's not about writing. It's about thinking. Consider yourself as a thinker, find out how you can get what's within your brain onto paper. There's a million ways to do it that satisfies every learning style."
Part Two: More with Nametag Scott and building business.
By the way, if you want to refine your communication skills and learn more about blogging, Social Media, PR, and sales, sign up for my 21-day free video series, "Speaking of Communication."
(Photo Credit: Ethan Hein)