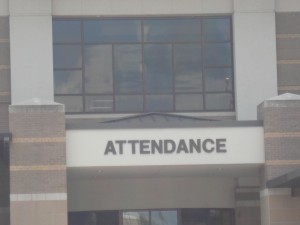 Schools here in San Antonio, Texas are out for the summer, and once again, I can't locate any school in any town or city that teaches the one lesson that all children need for success. The Class of 2012 at my niece's high school graduation this week danced around the topic a bit, but no one actually said it. Yes, the students have been congratulated for memorizing and regurgitating information from textbooks. They have managed to pass numerous standardized tests. Many will soon head to college.    
The one class that is missing from every single school curriculum in the nation is a class on self-love. Hard-core business leaders and educators at Stanford, Wharton, and MIT are probably cringing. But many have learned — independently — that this is indeed the secret to success.
Learning how to truly love and accept ourselves, unconditionally, would forever alter our paths. It would rescue students from listening to that unforgiving, relentless, doubt-filled soundtrack in their heads that they are not good enough, smart, enough, attractive enough, funny enough…on and on. It's the poisonous soundtrack that stays with so many of us for a lifetime. It gnaws away at the root of our emotions, hearts, and desires.
 The Loaded Question
Four years ago, my family was turned upside down with a crisis of immense and deep proportions. Ironically, much of it centers on communication. Not too humbling for me, the communicator. At a residential treatment program far away from Texas, I joined one of my children in a support group on self-esteem. Twenty other parents and their kids were participating as well.
The facilitator asked the parents, "How have you taught your children positive ways of looking at themselves?"
Dead silence.
Then I asked the loaded question: "How can we teach our kids something that we ourselves never learned?"
One teenage girl ran from the room in tears. Some parents wept quietly. 
Funky Ears and Freckles
Imagine how different our lives would be if we broke free of negative communication and self-talk. What would your life be like if you had taken a class in elementary school on how to unequivocally love yourself? Maybe our kids could skip a few science or reading sessions and find out how to unconditionally accept themselves, exactly the way they are.  The blemishes, funky ears, freckles, bony knees and all. When we're uncertain of our talents and gifts — uncomfortable in our own skin — mediocrity consumes our lives.
When grown-ups learn to silence our own inner critics and judgments that steal our joy, then we can teach the next generation the secret sauce.