When the satellite truck lost power and the broadcast went dark, folks on Twitter started lobbing  hardballs about the tech trouble.
The fourth inning in Kansas City turned ugly—and quiet—for Fox Sports.
My Tweetdeck #WorldSeries column went berserk in Game 1 of the World Series when the Fox Sports broadcast went bust. Like so many others, I was tweeting and watching the New York Mets in Kansas City. I was horrified to see a blue screen on my TV.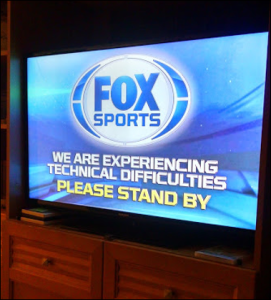 Naturally, my first thought was: Which brand—if any—is going to jump all over this marketing moment, like Oreo did when the power went out during Super Bowl 48 in New Orleans?
Fox Sports' broadcasters tried to get a handle on what was unfolding on live television, and tweeted: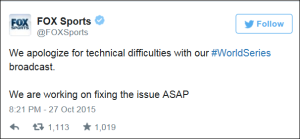 When the first of the two outages hit, Peter Shankman, a New Yorker, and the founder of HARO, hit the (Twitter) roof.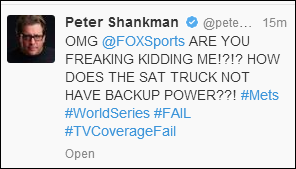 When the telecast returned a few minutes later, viewers saw that play had actually been halted at Kauffman Stadium. We watched as Major League Baseball Chief Baseball Officer Joe Torre consulted with the umpiring crew and managers. The game resumed a few minutes later when officials agreed to continue without the use of replay, reported USAToday.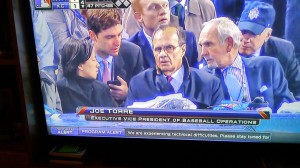 During the downtime, Twitter freaked out on #Fox with numerous hashtags and criticism of announcer Joe Buck.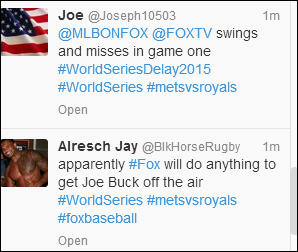 Regardless of who wins the series, Fox Sports is the biggest loser. Can't wait for Game 2.
As former Mets pitcher Tug McGraw said in the 1973 World Series, "Ya Gotta Believe."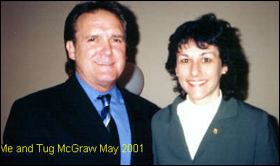 #LetsGoMets