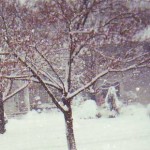 Can't pitch your story because of the weather?  Tired of eating the cookies you bought during an 'emergency' pre-storm grocery run? Sick of watching reporters get blown off their feet during live shots of the blizzard?
Speaking from personal experience, I'll venture to say that most PR professionals and communicators don't thrive on down time.
With the media in complete storm mode, forget unsolicited pitches.
Below are 7 ways for communicators in marketing and PR to stay productive until the weather clears. Most of these can be done from your cozy couch.  The good news: You don't need to shovel anything.
Use SlideShare to create a slide deck from a previous post that received a lot of hits and comments. Repurpose the post by grabbing a few key points from your written text. Add some images and graphics to spice up your words. Post it on SlideShare and cross-promote it on your other social channels. (If you've never tried SlideShare, decks are created in PowerPoint, so it's easy enough).
Take pictures to energize your blog, e-newsletters, and presentations. So much better than stock photos.
Write your Editorial calendar for the year. January is almost over. It's time to get the framework together for the coming months.
Check out Muckrack.com (on Twitter #Muckrack) and Help a Reporter Out, or HARO. These are two places where news pros and bloggers are scouting out subject matter experts and trusted sources. There's plenty of activity to pursue while your sluggish competitors watch the snowflakes accumulate.
Subscribe to the Harvard Kennedy School's Shorenstein Center on Media, Politics and Public Policy. It's a research center that provides in-depth studies and data on timely news issues. You'll want to bookmark the Journalist's Resource.
Identify five blogs and pursue opportunities to guest post.
Just because there's a blizzard, there's no excuse for you to have a brain freeze.
And if you opt for Plan B—binge watching Orange is the New Black or Downton Abbey on Netflix—we won't judge you. Promise.
Be safe.