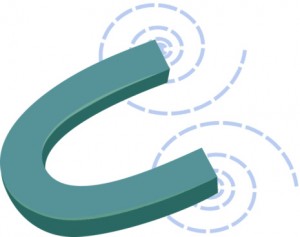 Are people drawn to your blog, profiles, networking channels, and videos? Are you aware of your brand's magnetic fields of energy that push and pull? What are you doing in social media to expand this magnetism? 
Here are 6 ways to become a social media magnet that will impact your brand and identity: 
1. Develop your online persona. What do you value, stand for, and know? Your style will define your brand. What does it feel like?  
2. Use your true voice. Write and speak from the heart. You'll be more attractive to others.
3. Understand the fine art of charisma. Charisma is magnetism, allure, and appeal. It's what makes you special. Charisma draws people to you, online and in real life. It builds instant rapport.
4. Know who you're trying to reach. You can't be all things to all people. Zero in on your target audience and how you can best serve them. When others begin to trust you and your message , they will want to be in your circle.  They'll likely bring friends.  
5. Convey a message based on emotion. As Simon Sinek writes in his book, Start With Why, people buy into why you do what you do.  The what and how (logical part of our brains), will follow. Your Tweets, posts, and articles should focus on your passion and emotion. People will buy into emotion before they buy into a process.  As Sinek reminds us, Dr. Martin Luther King Jr. titled his speech, "I Have a Dream." It wasn't titled,  "I Have a Plan."   
6. Give and take. Magnetic fields receive and emit energy and light. Remember, it's the push and pull. Others will pay attention to you when you interact, converse, retweet, share, and invite them in. Be the bright spot in someone else's day. Talk about impact and magnetism. Wow. 
Creating your brand, identity, and magnetism takes time. It's about creating a buzz that everyone wants to be a part of.  The goal is to be a social media magnet, and not a crap magnet. Your time has come.  Hasn't it?
P.S. If you want to be an ace at communication, sign up for my free, 21-day video series, "Speaking of Communication." Learn tips and strategies on PR, social media, blogging, branding, and more.