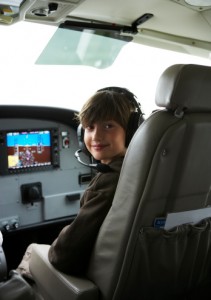 When you show people that you want to learn, they're happy to jump in and help. It doesn't matter if you're an intern or seasoned entrepreneur.  People who are motivated —and demonstrate their determination — don't need 'official' mentors.
The lessons are often learned in places that don't resemble classrooms or conference rooms.  
Many of us have been in roles as both mentees and mentors.  This post is written for the givers and the receivers.
The Easy-Breezy Plan
Just before my college graduation, my favorite broadcasting instructor introduced me to his radio buddy, John, who was also from New Jersey. John worked on-the-air at some of the biggest stations in Manhattan. 
My plan: Return home to New Jersey and find whatever job I could at any radio station that would give me my first break. Not so easy breezy because I'm in one of the major media markets in the U.S. (New York/New Jersey/Philadelphia). Cut-throat is being polite.
Every few months, John and I would meet at Tiffany's Ribs, a restaurant and bar on Route 22 in Union County. John imparted his best advice and guidance to me at the bar at Tiffany's. We kept in touch for many years; he even came to my wedding. As a result of this learning experience, whenever I have had the opportunity to mentor someone, I've jumped at the chance to help. 
Yes, we're in a competitive and weak job market. But the media industry has long been fiercely competitive.   
Regardless of the field you work in — or want to work in — lessons and sage advice come in a variety of forms. Consider these three points about mentoring:  
1.       Forget the formalities.  Hours after the movie theater massacre in Aurora, CO, I read a column written by sportswriter Adrian Dater of The Denver Post. It was about Jessica Ghawi (pen name @JessicaRedfield), an intern who had ironically moved to Denver from San Antonio, where I now live. Twenty-four-year-old Jessica was among those killed at the movie theater.  Dater's words about Jessica's drive and determination to succeed in sports journalism struck a chord with me. He wrote:
"I got to know her and gave her advice about the business. I guess I kind of took her under my wing a little. For one thing, us gingers stick together, and she looked a lot like my kid sister. I knew that she was very ambitious and wanted to advance along into the world of sports journalism, and I always like seeing young people like that. It's a great way to relieve one's own youth, remembering how I was the same way once."
2.      Pay close attention to the stories. Dater and Jessica's mentoring, similar to my relationship with John, didn't take place in a conference room or at a company trade show. The lessons are taught by sharing sage advice about successes and failures. Dater explained:
"I suggested we meet at one of my favorite hangouts – the 1Up arcade right down by Coors Field. There, we talked for probably a couple of hours, mostly me either talking about the business and giving advice, telling stories of my getting into it, things like that."
 3.      Sit at the table with the players. Jessica was an intern covering the Colorado Avalanche hockey team. The lesson from Dater's follow-up column the next day touched on breaking your butt to get a seat at the table (or in this case, the coveted press box).  Jessica worked super hard and the powers-that-be acknowledged her steadfast determination. According to Dater's July 21st column:  
"I'm posting this photo with permission from the guy who took it, David Puchovsky, who writes an Avalanche blog from Europe…She [Jessica]was in the press box with a real credential – not at all easy to get with the Avalanche. It's a credit to her professionalism and bonafides that she is seen here in the press box for a Dec. 19, 2011 game against the Philadelphia Flyers, with legendary hockey players such as Hall of Famer Michel Goulet sitting two seats to her right…She got there, but her time in it was all too brief."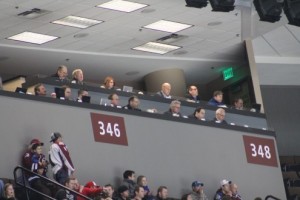 It's tragic that we lost 12 innocent people on that fateful night, including an aspiring journalist who had the guts to follow her dream.