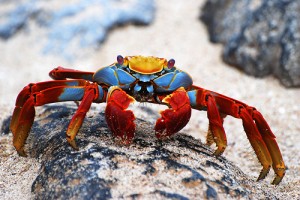 I break from my usual blogging theme of communication and public relations to bring you "The 21 Signs that Social Media Has Taken Over the World."
 Your baby is born in the hospital and the nurse asks,  "What's the baby's handle so we can fill out his birth certificate?"
The sign on the restaurant door says: "No shirt, no shoes, no gadgets, no service."
The new name for Hide and Seek is "Foursquare."
The phrase "He's all thumbs" is considered a huge compliment for a fast texter.
Every house with kids in it proudly displays their Avatars on the mantle in the den; no one seems to recall what a school picture is.
Wikipedia as we know it is gone; it's just a bunch of links.
"The New Testament" is now the 10-set volume of Gary Vaynerchuk's "Crush It" series. It's a wonderful source for kids in Sunday school classes every week.  Only second of course to "The Bible."
No one talks anymore. We simply chat.
When someone says "Smile for the picture", you immediately think emoticon 🙂
Your 6-year–old adoringly pleads at bedtime, "Please tell me that story again about The Three Wise Men: Chris Brogan,  Tom Peters, and Seth Godin."
Gadgets like the iPhone have gone the way of eight track tapes.
Kids laugh at their parents when we describe how Tweetdeck worked.
On special occasions, family dinner means Grandma shares her story, "When I was your age and had to Tweet from my Blackberry, we paid $12 to see the 'Avatar' movie in 3D and got these silly glasses…."
When someone says "Beam me up Scotty", they really mean it.
When you go through the security check at airports, everyone beeps. We're all wired and chipped. TSA who?
The bumper stickers that say "Honk If You Love Country Music" have been replaced with "Tweet If You Love Pinterest" — and no one ever gets a ticket.
The board game Scrabble now has pieces with .ly and http://
Phone books and libraries are obsolete.  There's one book that matters: The Book of Links.
No one discusses the difference between bloggers and journalists because the last newspaper went to "Newspaper Heaven."
Baby bibs that used to say "Spit Happens"  now read "Spam Happens, IMHO"
Mashable tops the newest version of the 7 Wonders of the World.
And I can't figure out why I don't sleep at night. Hmmm. 🙂
(Photo Credit: Tristan27)