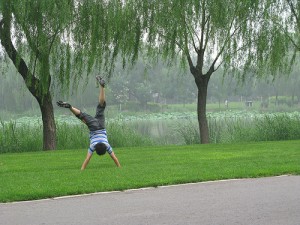 A proactive blend of traditional media, Social Media and good old-fashioned networking can have a huge impact on the growth of your business. Most, if not all of the strategies listed below, are free. Are you prepared to make an investment of your time, education and skills to be more successful? Are you ready to create  a buzz?
Consider these opportunities:
1. Write a press release. Don't try and sell anything; learn the right style and elements of a good press release and focus on helping people to solve a problem. I was a radio news reporter and own a Public Relations company. My main website, www.getinfrontcommunications.com has free resources and archives for you. When you write the way reporters do, they will be more compelled to read your pitch or release. This will in turn help you become a trusted news source and develop relationships with  decisionmakers. I call it "free press". It's not advertising but legitimate news stories that impact the public.
2. Submit a Public Service Announcement (PSA) or Calendar Listing to your local/regional media outlets. Ideally, try and partner with a nonprofit on a charity event, or provide a free seminar and you have a good shot at getting it picked up by the media.
3. Write a Letter to the Editor or Op-Ed article. Pay attention to news and current events that affect your industry and community. Read the publication you are targeting and go online to find the guidelines for submitting (word count, contact information, etc.) Timing is important, so send in your  piece within a day or two of the original article.
4. Write a bylined article.  Research a trade or industry publication first to make sure they accept these types of articles. You'll also want to have the editor/publisher agree to your topic before you spend a lot of time writing. Bylined articles can also be submitted online to portals on the Internet where they have a long shelf life and position you as an expert in your field. They will give you  instant credibility. Understand the format before you begin to write. These articles are generic in style and should not be self-serving or contain a sales pitch. It may contain similar content as a press release but the format and style are different. The bio box at the end will have a few lines of your bio and contact information.
5. Commit to blogging. Consistent posts with valuable information that help people can attract new prospects, clients and followers. Blogging will develop your communication and critical thinking skills. It will also showcase your expertise, style and personality.
6. Pose questions in Social Media groups. Join groups and chats online where your ideal clients congregate. Learn who the movers and shakers are and identify key challenges of the members. Craft carefully worded questions (again, no hard sales pitch) that will begin a dialogue and engage people. Then you can privately connect with them and network.
7. Create online videos. Record short and punchy videos that can offer tips to people and help them solve a problem. Post these snippets and links on Social Media outlets, Facebook, YouTube and other sites.
8. Take digital pictures. Most newsrooms are short-staffed and reporters are over-worked. They have very limited staff to cover events and meetings. Bring your digital camera to a meeting, trade show or presentation. Take  a few (high resolution) pictures and draft a photo caption identifying the people in the shot. E-mail it to reporters with your contact information. It can also be used in e-zines, newsletters and on your website. Don't forget your local business  journal and trade publications too. Help reporters do their work and you'll soon become a valued resource.
9. Be a guest on a public affairs show. This is especially good for nonprofits. Many TV and radio stations have regular weekly programming that feature guests and community activities. Hosts and producers  are always looking for fresh faces and new voices. Most radio interviews are recorded on the  phone during the week and aired over the weekend.  These are typically 10-30 minute features which gives you plenty of time to discuss your organization, projects…and mention your contact information. Bonus: Get a copy of the  interview and post it on your website.
10. Get out and speak to groups. Speaking will help to position you as an expert in your field. It also gets you in front of multiple prospects and a captive audience who may need your help or can offer referrals. Volunteer to provide a breakfast  or lunch presentation for your Chamber of Commerce, networking club, Rotary, or professional association. If you are nervous about public speaking, join Toastmasters, register for a class or hire a coach. I have found speaking to be one of the best ways to grow my business.
11. Add an online newsroom to your website. Build an archive of your press releases, newsclips, stories and interviews that get picked up by the media. It will add to your credibility. The information contained in your press releases and interviews can also be a free archive or resource to people who need your help.
12. Network. As convenient as Social Media is these days, it's still critical to build face-to-face human relationships within your community and industry. Commit to attending 5-10 programs a week or month (depending on your schedule, situation and determination to grow your business). Understand the fine art of building rapport, communicating and your personal branding message. As technologically advanced as we have become, in the end we are all human beings. We still need a smile, handshake, eye contact and human-to-human relationships. Ditch the keyboard and grab your car keys.
13. Mentor students. Connect with your community by sharing your knowledge, wisdom and experiences with the younger generation. Build a relationship with a high school or college student. Develop an internship program or offer a small scholarship. This is newsworthy.
14. Tap into Cause Related Marketing. If you are a for-profit business, widen your circles and partner with a local nonprofit on a project.  For example, if you work in Real Estate, you can contact Habitat for Humanity or United Way to launch a neighborood litter cleanup. By volunteering, you will meet new people and create fresh PR opportunities.  One of my PR clients who owned several jewlery stores teamed up with a local Scouts group and taught children about diamonds, precious stones and mining in Africa. The kids were captivated!
15. Attend a trade show, Expo or conference.  To me, this is the only item on the list that can cost you money. The rest will take time and resources but probably not cold hard cash. For trade shows, Expo's or conferences, first identify where your ideal clients spend their time. Determine which premier events the decision-makers attend…and go there.  You may decide to be a vendor, or simply attend to network and take a few workshops. If money's tight, target 2-3 events per year that won't require much travel and will be most beneficial without breaking your budget.
What will happen when you do all of these over time? The result: You will be ubiquitous; you will be everywhere! How do I know? I live by this list. I am living proof. Good luck!
(Photo Credit: Paddling)