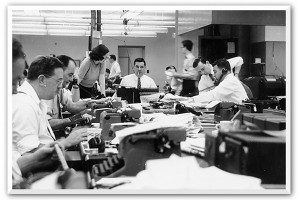 Influence, vision, power, and a bit of ego have driven most of these individuals to make their mark in the news and media. Many fought and endured hardships and battles that are unimaginable. Others were born into wealthy families and went on to build media empires that date back to the 1800s. They were rebellious, brave, and smart.
You may not recognize all the names that follow. You may wonder why Steve Jobs, Merv Griffin, Thomas Edison, Howard Stern, and Oprah Winfrey are not included. When I began compiling the list, I wanted to balance new and old, familiar and unfamiliar. I learned a lot from writing this. You may find it a bit eclectic. I'm feeling like Part 2 may be stirring.
For now, here are 12 pioneering people who changed the news and media:
1. Nellie Bly
In the early 1900s, Nellie (born Elizabeth Jane Cochran) refused to follow the rules that women at the Pittsburgh Dispatch newspaper only write about gardening and tea parties. Her fiery rebuttal to a sexist column written by her editor gained attention. Bly broke into investigative reporting that would become her lasting legacy. In 1887, she took an undercover assignment for the New York World newspaper. Faking insanity, she spent 10 days as a patient in the Women's Lunatic Asylum on Blackwell's Island in New York. Her exposés of brutality and neglect have changed the way people with mental illnesses are treated. In 1998 — 76 years after her death — Nellie Bly was inducted into the national Women's Hall of Fame.
2. Barbara Walters
In 1976, Walters breaks ground as the first woman to co-anchor a network evening news program on ABC. She endured blatant sex discrimination on and off-camera that was dished out by her co-anchor Harry Reasoner. The Emmy-award-winning Walters, now 83, was on the Today Show for 11 years, hosted annual pre-Oscar interview specials that yielded top ratings, and has interviewed world leaders from every corner of the world. Walters also developed and co-hosted daytime talk show hit, The View.
3. Edward R. Murrow
Years after his passing, Murrow continues to be a role model for broadcast journalists. At the onset of World War II, his broadcasts from London gained him instant recognition from both his peers and the public. PBS.com maintains Murrow's "courage and perseverance in search of truth" changed history.
4. Arianna Huffington
Many consider her our modern day digital media mogul. In 2005, Huffington and several business partners launched the Huffington Post. "The queen of new media" has managed to assemble thousands of bloggers who write for free, along with several notables, including President Barak Obama, to contribute to this groundbreaking online newspaper/content aggregator. In 2011, Forbes names Huffington to its list of "The World's 100 Most Powerful Women."
5. Ted Turner
His vision brought us the world's first 24-hour TV news network, CNN. The 73-year-old media mogul's empire has been somewhat of a double-edged sword for Turner, and all of us. People are voicing disgust with around-the-clock talking heads that repeat horrible news and bombard the public with biased reporting. But there is a lighter side: Turner also brought us the Cartoon Network and an all movie channel.
6. Benjamin Franklin
It wasn't just about the kite and the Constitution. Circa 1730, Franklin authors and publishes the first political cartoon. In his teenage and young adult years, Franklin had worked as an apprentice printer. He and his brother launched Boston's first newspaper, The New England Courant. One of many highlights: In 1733, Franklin published Poor Richards Almanack.
7. William Randolph Hearst
Talk about an edgy risk-taker. Hearst (1863-1951) was born to a wealthy family in California, and after being expelled from Harvard, took control of his father's newspaper, The San Francisco Examiner. Hearst soon moved his base to New York City and began a cut-throat battle with rival publisher Joseph Pulitzer. The two pioneered sensationalized journalism featuring scandals, sex, sports, and human interest stories. Writer Arthur James Pegler said: "A Hearst newspaper is like a screaming woman running down the street with her throat cut." Hearst balanced this drama with hard investigative reporting. He also hired writers Mark Twain, Ambrose Bierce, and Jack London. NotableBiographies.com contends Hearst owned "one of the most extensive journalistic empire ever assembled by one man. His personality and use of wealth permanently left a mark on American media."
8. Phil Donohue
He bounced around the studio with his silver hair flopping in his eyes and a microphone in his hand. "Caller, are you there?" was his trademark phrase. Donohue brought his message to women during the soap opera hours. His topics and guests on daytime television encouraged women to leave the laundry room and pursue their own interests and careers; to participate and be more vocal in our society. Oprah Winfrey wrote: "In 1969, his show debuted nationally, and the whole country came to know his personal brand of issue-driven straight talk."
9. Johannes Gutenberg
His name may not ring a bell but he's made quite a contribution. This German entrepreneur, who lived in the 15th century, developed "a printing press process that, with refinements and increased mechanization, remained the principal means of printing until the late 20th century," according to Ideafinder.com. "The inventor's method of printing from movable type, including the use of metal molds and alloys, a special press, and oil-based inks, allowed for the first time the mass production of printed books." This included the Bible.
10. Janis Krums
This man has changed the way news is reported — and propelled Twitter to the front line of breaking news. Krums snapped the "Miracle on the Hudson" picture of a U.S. Airways plane sitting in the Hudson River on a frigid January day. Who can forget hero pilot "Captain Sulley" and the 155 passengers who were rescued? Krums was on a ferry when the plane crashed. He said others on the boat were taking pictures with their cell phones, so he took a few, too. But it was Krums who knew how to use his technology and tweet the picture. His 300 followers helped it go viral, and citizen journalism was taken to a new level.
11. Tim Russert
Simplify, simplify, simplify. That was the magic Russert brought to news and politics. He had the uncanny ability and political know-how to distill complex issues for the layman. Russert was the proud son of a garbage man from upstate New York. He worked as a political aide to several notables, including U.S. Senator Daniel Patrick Moynihan. Russert's political insights brought him to news and he would eventually become moderator of Sunday's long-running and prestigious Meet the Press. He hosted the show on NBC from 1991 until his death in 2008.
12. Rupert Murdoch
The elderly news publisher is making his own headlines, and it ain't pretty. The 93-year-old billionaire and head of Murdoch News Corporation is facing allegations of a phone hacking and bribery scandal that is rocking his empire and reputation. But let's step back. Murdoch's father was a newspaper publisher. According to Biography.com, the Murdoch News Corporation currently "controls a significant share of virtually all forms of media across the globe. He owns many of the books and newspapers people read, the television shows and films they watch, the radio stations they listen to, the websites they visit, and the blogs and social networks they create."
Do you have a favorite from this list? Mine is Nellie Bly. What's the most interesting tidbit you learned?