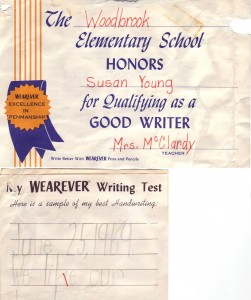 Seasoned PR pros are pretty damn astute. At least, I'd like to think so. Remember the adage, "Don't forget where you came from"?
Before you take a peek at the balance in your 401(k), read on.  
Here are 10 signs that retirement may be closer than you think. 
1. Everyone you've interacted with this week is named Chad, Preston, Kaileigh, or Amanda. ("Susan" is a dead giveaway that I'm amongst the seasoned). 
2. When asked how long you've been in the field, you have to pinch yourself. Then you begin to mumble. 
3. You remember planning press conferences when reporters actually showed up.
4. The only web you recall as a child is the book, Charlotte's Web. How could you forget? You nailed an "A" on your 4th grade book report.  
5. You cherish the memory of not having a cell phone, and still being able to get the job done. 
6. You took a typing class in high school that was missing one thing: guys. 
7. When you called a newsroom to pitch stories, they were staffed by 12 full-time people, four weekend reporters, and a sports department that worked around-the-clock.  
8. To blast out your press releases, you used WinFax Pro.   
9. When you drove to a client meeting, you jotted down the odometer readings from your dashboard so you could get reimbursed for travel. No Mapquest or GPS. And the only time you mentioned "Google" was when you were entertaining your 3-year old nephew.  Who knew?
10. Viral meant you needed to go home and get plenty of bed rest. 
Care to add to the list? Feel free; I'll be sitting on the front porch of the PR Retirement Home with Uncle Joe from the Shady Rest at Petticoat Junction.  Got ya.